Contracts have been signed for the design and construction of a multi-million euro development at the Opera Site, Limerick.

Cogent Project and Cost Management teams were on site for the contract signing with Sisk and the announcement of an €80m joint venture with Limerick Twenty Thirty and the Ireland Strategic Investment Fund (ISIF), which will boost the development of the circa 10,000sqm Opera Square site-wide basement and the six storey One Opera Square office building.

Project Opera, Limerick Opera

Over 1,000 tonnes of stone, brick, cobblestone, old doorways and gates have been salvaged during the enabling works contract of the Project Opera site in Limerick.

Every effort has been made to recycle and reuse the construction rubble at the city centre site. Cogent Associates managed the demolition and site clearance process, with sustainability and recycling central to the employers' requirements, whilst picking up LEED points to enhance the LEED scoring at a later phase. It has been an innovative and exciting phase of the project, engaging with the various stakeholders and putting into practice the principles of a circular economy.

Cogent is overseeing a range of Integrated Project Management services under a single appointment on the Limerick Opera site. The 3.7 acre "mixed-use" development remains on course to be delivered over a six-year period.

For the full article and details of how the stone is being used to train early school leavers as stonemasons: RTE News

For more news on Project Opera see Cogent News posts: Programme Management / Demolition

Tags: Recycling, Project Opera, LEED, Limerick Opera

Demolition of the old library building follows the completion of the first parcel of works for the Cogent Project Management team – a significant step in the wider Opera site urban redevelopment scheme and a remarkable achievement considering the challenges faced over the last 12 months.

The first parcel of works comprised the temporary relocation of Limerick City Library and Limerick City and County Council administration offices from these now demolished buildings to the repurposed and refurbished Barrow House.

This mixed use development comprises approximately 550,000ft² of hotel, commercial office, retail and residential accommodation over a shared basement with over 57,000ft² of public realm space, delivered over multiple phases on a 3.7 acre site.

Cogent Associates are providing Cost and Project Management services from the initial planning consent of the scheme through to procurement, construction and completion of the overall Campus.

Video Footage, courtesy of Limerick Twenty Thirty, shows the demolition of the old library building on Project Opera, Limerick.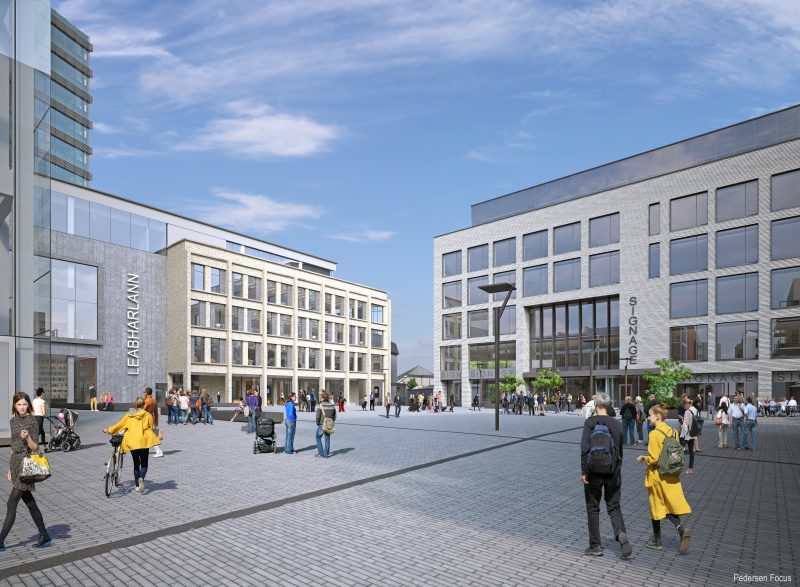 Tags: Limerick City Library, Project Opera, Demolition, Limerick Opera

Henry J Lyons Architects have been appointed to design the 14 storey Commercial Tower, Public Library and The Granary courtyard at the Opera Site in Limerick.

This appointment, complements the previous appointment of COADY Architects to One Opera Square and represents significant progress in the development and realisation of the Opera Site development. A project that Cogent Associates are very proud to be delivering for Limerick Twenty Thirty.

Tags: Limerick Opera

The biggest single commercial property programme investment in Limerick and largest ever outside the capital got underway today at the Opera Site.

Having achieved planning in February 2020, the demolition and enabling works programme were commenced today by contractor John Sisk & Son Ltd at the 1.62 hectare site. Pictured with Limerick Twenty Thirty Chief Executive David Conway is Cogent Director Ciaran McArdle, Michael Collins Mayor of the City and County of Limerick and Pat Daly Chief Executive of Limerick City and County Council.

Cogent Associates are providing Project Management, Cost Management, Employer's Representative, Assigned Certifier, PSDP and BIM services to this landmark development.

Among the key elements of the project will be a 14-storey landmark office space building; a five-storey aparthotel with 13 separate apartments and retail on ground and basement levels; a 4-6-storey over-basement building with office space, retail and restaurant/café; a new state-of-the-art library plus significant public realm.

Tags: Limerick Opera

We are delighted to announce that Cogent Associates has been appointed as successful tenderer for the key role of Integrated Project Management on the circa €200 million Limerick Opera mixed use project.
"This is such an exciting project to be involved in as not alone is Opera of huge significance to Limerick but by virtue of what it will do for the regional economy in the Mid-West, it will have national significance. It is a 'key-note' development in line with the government's Rebuilding Ireland 2040 plans. Outside of Dublin, this commercial development is most significant and, with funding already secured, works are commencing on site."

Kevin James, Cogent Associates Managing Director
Cogent will oversee a range of Integrated Project Management services under a single appointment, that includes Cost Management, Employer's Representative, Assigned Certifier,  PSDP and BIM.
"The appointment of Cogent Associates is a key final step in getting this transformational project underway.  We've gone to the market and procured a leading project and cost management company that will now put a team in place to manage all key areas of the project and report directly into us.  They will procure the various contractors and supervise the works to ensure they are completed to the best international standards we have set out for the project."

David Conway, CEO Limerick Twenty Thirty
Tags: Limerick Opera, Mixed Use