We are delighted to announce recent promotions at Cogent Associates.
Congratulations to Glen Roche on his promotion to Director, Brendan Dooley to Senior Associate Director, Orlaith Nic Gearailt to Senior QS and Conor Willis to Senior Project Manager.
We are also pleased to welcome some newer members of staff to our ever-expanding Project teams – Amalita Miranda, Glenn du Preez, Sony Jose Kannampuzha, Ciaran McCaffrey, Keanu Esmeraldo and Mark Wilkinson.
If you are interested in a career at Cogent, visit our Careers page for further information.
Tags: Glen Roche, Brendan Dooley, promotions

We are seeking client-facing, highly motivated Quantity Surveyors, to join our rapidly expanding and dynamic Cost Management team in Dublin.

Please visit our LinkedIn page for the full Job Advert and take a look at our Life@ Cogent brochure, which features our latest project commissions and gives a flavour of what to expect when you work at Cogent Associates, including social, sporting and charitable events.
For Additional Vacancies: Careers Page
Cogent Associates are seeking a highly motivated recent Graduate, in the role of Facilities Coordinator, to join our expanding Facilities Management team in Dublin.

This is a great opportunity to gain experience in the consultancy side of Facilities Management and to work on some highly prestigious projects. You will be working within a well-established team, providing administrative support to the Facilities Manager and Senior Facilities Manager.

Our Careers Page includes links to further information on this and other roles at Cogent.

We look forward to hearing from you.

Tags: Facilities Coordinator, vacancies, Facilities Management

All too often Construction is not offered to young women as a potential industry in which to start their career, but it is one that can be rewarding and there are many interesting roles from architecture to engineering to quantity surveying. Lucky for Cogent Associates, Assistant Quantity Surveyor Jessica Harris had plenty of support and encouragement from her family and her school.

We share our interview with Jessica on International Women's Day 2022, to encourage other young women into the industry and to show them what a varied and interesting career it can be.
What were your favourite subjects at school?
My absolute favourite subject at school was Construction Studies but a close second was Geography.
Did you know, while you were at school, what job you wanted to do?
Not really, I knew from loving Construction Studies so much I wanted to do something in relation to the construction industry, but I wasn't sure what it would be. My construction teacher actually recommended I looked into Quantity Surveying.
Did you go on to further study after leaving school and if so, what made you choose that course?
Yes, I studied Quantity Surveying and Construction Economics in TU Dublin Bolton Street, I went to their open day after my teacher had recommended it and I liked the look of all the modules involved in it, so I put it on my CAO.
What was your first job?
My first job was working in transition year with an accountancy firm but after transition year my jobs were all in cafés, until I worked with a QS company in my first year of college.
What made you choose the Construction Industry?
I always loved Construction; I was lucky that my school had offered it as a subject because I might not have thought of choosing the construction industry otherwise.
Is there anyone who has particularly influenced or inspired you in your chosen career?
My Dad always pushed me to go into construction because he knew I loved it. So as clichéd as it sounds, I would say my Dad.
Did you come across any hurdles along the way?
I can't think of any, so no I didn't really.
You now work for Cogent Associates, as an Assistant Surveyor, what do you like about your job?
I like how every day is so different working with a variety of different projects, I'm constantly learning!
Where do you see yourself in the future?
Definitely, in the Construction industry, I know it's the right industry for me
What advice would you give to any young woman considering a job in the construction industry?
I think if you're thinking about it definitely look into it, attend open days and ask questions and if you like it absolutely go for it! It's such an interesting industry to be a part of, it's constantly moving and changing, no two days are going to be the same and the industry needs more women.

Tags: IWD, careers

We are delighted to introduce to you a number of new starters who have joined Cogent Associates in recent weeks and to congratulate Barry Smith, Laurence Conran and Abigail Donnelly on their recent promotions.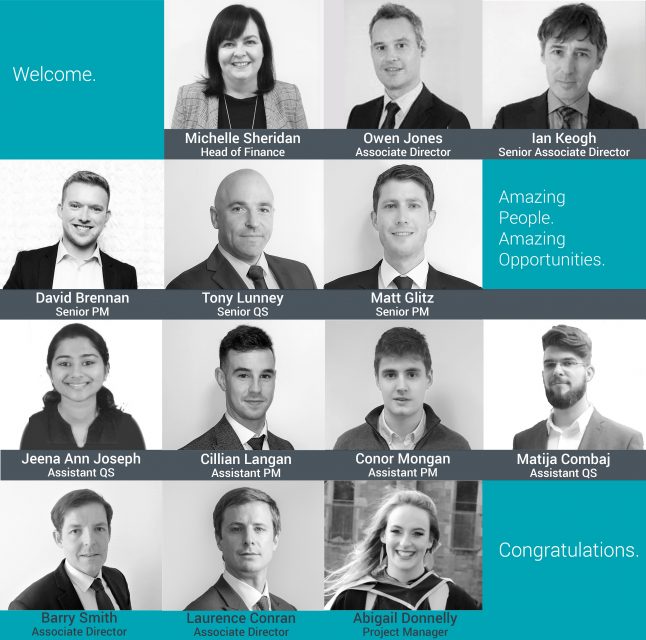 If you are interested in a career at Cogent Associates, see our Careers Page for the latest vacancies.

Cogent Associates are currently seeking talented individuals to join our team. If you have 5-10 years Project Management Consultancy / Client experience and are looking to take your career to the next level, we would like to hear from you.

Our Careers Page contains a link to job specifications.

Tags: careers

Thanks to continued growth, Cogent Associates are currently seeking talented individuals to join our Project Management team. If you have 5-10 years Project Management Consultancy experience and are looking to take your career to the next level, we would like to hear from you.

You will be working as part of a well-established team, managing large-scale construction projects in a variety of sectors, including commercial offices, social housing, industrial and residential.

Our Careers Page contains a link to job specifications.

Tags: careers

Cogent Associates are currently seeking talented individuals to join our team. If you are looking to take your career to the next level, we would like to hear from you.

Our Careers Page contains links to current job vacancies and specifications.

Tags: vacancies project managers, vacancies, jobs, careers

Fiona Little
In our series designed to encourage young women to consider a career in the Construction Industry, we asked Cogent Project Manager Fiona Little to tell us how she came to work in the industry.

What were your favourite subjects at school?

Maths and Biology.

Did you know, while you were at school, what job you wanted to do?

No; I liked problem solving and science subjects, but I didn't have a clear career path in mind.

Did you go on to further study after leaving school and if so, what made you choose that course?

Yes, I studied Structural Engineering with Architecture as my undergraduate degree and then completed a Masters in Civil Engineering with Business. I chose to study engineering as I liked the subjects and as a primary degree it provides relatively broad career options.

What was your first job?

My first job was working in a bakery during 5th and 6th year (turned me off cream for years!) and my first professional job was working as an intern in the University of Illinois at Chicago in the Office of Sustainability.

You now work for Cogent Associates as a Project Manager, what do you like about your job?

The variety; every day is different, we work with a diverse range of clients seeking to deliver exciting projects. There's always something to learn on each project, depending on the team, scope, site, technology etc and for me that's one of the best bits about the job.

What advice would you give to any young woman considering a job in the construction industry?

Try it out; if you know someone working in construction ask them if you can shadow them, go to industry events, try to get work experience in an area of interest to understand what the day to day job is like.

Tags: Women, Project Managers