Kevin James this morning spoke about the "The Real Costs of New Apartment Delivery" Report published by the SCSI today.
The Key Findings were as follows:
The cost of delivering a low rise apartment in suburban Dublin is €293K
Delivery cost of medium rise apartments in the city ranges from €470K to €578K
Report finds delivery of affordable medium rise apartments in Dublin is not commercially viable
Affordability analysis found viable apartments require joint income of €87,000
Construction costs make up 43% of total cost, while soft costs – such as VAT, margins, levies and fees make up – 41% of total costs
Site purchase costs make up remaining 16% – but site costs range from €33K to €125K per apartment
Surveyors say addressing costs issue requires multi-faceted approach including increasing supply of serviced land, flexibility in design, and improved rates/access to financing
For full report here

Tags: kevin james, apartment delivery costs

Data Protection Notice

Effective 25thMay 2018

We respect your trust in us to use, store and share your information. In this notice, we explain how we collect personal information about you, how we use it and how you can interact with us about it.

We try to keep this notice as simple as possible but if you are unfamiliar with our terms, or want more details on any of the information here, please contact us.  You can also ask for more details at 01 6344850.

Data Protection Officer

Our Data Protection Officer oversees how we collect, use, share and protect your information to ensure your rights are fulfilled. You can contact our Data Protection Officer at privacy@cogentassociates.ie or by writing to them at: Data Protection Officer, Cogent Associates, Hyde House, 65 Adelaide Road, Dublin 2

How we collect information about you

We collect personal information from you when apply for services or look for advice. We also collect information through our website, apps, social media, discussion forums, market research and our CCTV footage. We will sometimes record phone conversations and we will always let you know when we do this.

Our website uses 'cookie' technology. A cookie is a little piece of text that our server places on your device when you visit any of our websites or apps. They help us make the sites work better for you.

When you apply to us for our services, and during the time you use these, we carry out information searches and verify your identity. We do this by sending and receiving information about you to and from third parties including CRO.

How we keep your information safe

We protect your information with security measures under the laws that apply and we meet international standards. We keep our computers, files and buildings secure. When you contact us to ask about your information, we may ask you to identify yourself. This is to help protect your information.

How long we keep your information

To meet our legal and regulatory obligations, we hold your information while you are a customer and for a period of time after that. We do not hold it for longer than necessary.

Meeting our legal and regulatory obligations

To use your information lawfully, we rely on one or more of the following legal basis
Performance of a contract
Legal obligation
Protecting the vital interests of you or others
Public interest
Our legitimate interests
Your consent
To meet our regulatory and legal obligations, we collect some of your personal information, verify it, keep it up to date through regular checks, and delete it once we no longer have to keep it. We may also gather information about you from third parties to help us meet our obligations. If you do not provide the information we need, or help us keep it up to date, we may not be able to provide you with our products and services.
Consent
Sometimes we need your consent to use your personal information. With direct marketing for example, we need your consent to make you aware of products and services which may be of interest to you. We may do this by phone, post, email, text or through other digital media.
You can decide how much direct marketing you want to accept.
How we use your information
We use information about you to:
Provide relevant services
Identify ways we can improve our services
Maintain and monitor services
Protect both our interests
Meet our legal and regulatory obligations and
Decide and recommend how our services might be suitable for you.
To provide our services under the terms and conditions we agree between us, we need to collect and use personal information about you. If you do not provide this personal information, we may not be able to provide you with our products and services.
We analyse the information that we collect on you through your use of our products and services and on our social media, apps and websites. This helps us understand your financial behaviour, how we interact with you and our position in a market place. Examples of how we use this information includes helping protect you and others from financial crime, offering you products and services and personalising your experience.
We may report trends we see to third parties. These trend reports may include information about activity on industries. When we prepare these reports, we group customers' names. We do not share information in these reports that can identify you, such as your name and company.
Your information and third parties
Sometimes we share your information with third parties.
For example to:
Provide services and information
Analyse information
Research your experience dealing with us
Collect debts
Sell whole experience dealing with us
Sell whole or part of our business
Prevent financial crime
Help trace, investigate and recover
Trace information; and
Protect both our interests
We expect these third parties to have the same levels of information protection that we have.
Your personal information rights
You can exercise your rights by contacting us at 01 6344850, using our social media channels, contact us or emailing privacy@cogentassociates.ie
Accessing your personal information:
You can ask us for a copy of the personal information we hold. You can ask us about how we collect, share and use your information.
Updating and correcting your personal details
Removing Consent: You can change your mind whenever you give us your consent, such as for direct marketing, using your sensitive information,
Restricting and objecting
You may have the right to restrict or object to us using your personal information or using automated decision making.
Deleting your information (your right to be portability). Where possible we can share a digital copy of your information directly with you or another organisation.
When you contact us to ask about your information, we may ask you to identify yourself. This is to protect your information.
Making a Complaint
If you have a complaint about the use of your personal information, please let our Data Protection Officer know, giving them the opportunity to put things right as quickly as possible.
If you wish to make a complaint you may do so in person, by telephone in writing and by email. Please be assured that all complaints received will be fully investigated.
You can also contact the Data Protection Commission in Ireland at www.dataprotection.ie.
Updates to this notice
We will make changes to this notice from time to time, particularly when we change how we use your information, and change our technology and Services.
You can always find an up-to-date version of this notice here, on our website at www.cogentassociates.ie.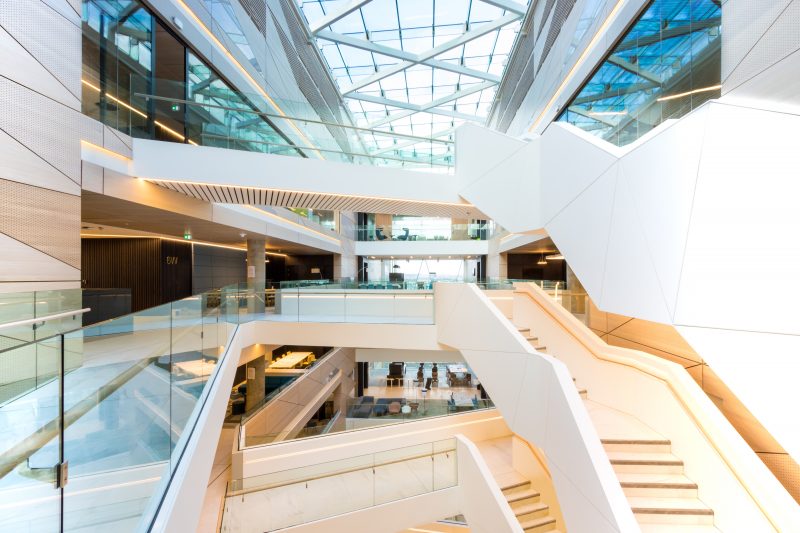 Cogent Associates are delighted to announce that our entry for the Association of Project Management's Overseas Project of the Year award, the Central Bank of Ireland Headquarters Building, has been shortlisted by the judges, in the face of very strong competition. Our entry will now go through to the finals of the Project Management Awards 2017 ceremony, which is being held in London on 20th November 2017. Cogent Associates provided full Project Management, Procurement Management and Move Management Services to the Central Bank of Ireland on the project.
A full list of Finalists is available on the APM website https://www.apm.org.uk/apm-awards/finalists/